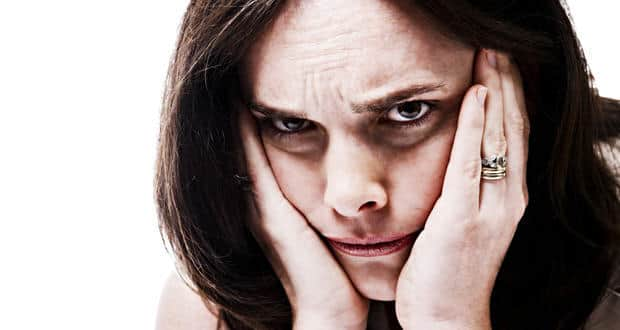 In the earlier post we've discussed the various reasons people get dark circles. Most of the causes for dark circles aren't permanent – smoking, drinking and stress are some of the primary reasons.  A change in lifestyle should be the first step towards ridding yourself of baggy eyes. If the reason is allergies, sinus or cold, try to relieve the fluid build-up using steam. For those who wake up in the morning with puffy eyes – changing your sleep position could help – sleep on your back and add an extra pillow under your head.
For those mornings after an alcohol-heavy night, use a concealer to hide those bags. If you go out in the sun a lot, use a sunscreen under your eyes. Use a moisturizer under the eyes before you go to sleep to keep the area well hydrated. You can also use frozen peas or cold cucumber on your eyes to combat puffy eyes.
Another daily care step you can include in your regimen is to use a retinol eye cream. Some eye creams that contain caffeine may help by constricting the blood vessels under the eyes.
There are hundreds of under-eye gels in the market today that claim to rid you of dark circles forever. The ingredients in these creams, specifically aloe vera, rose extracts, almonds and glycerine seem to work well to reduce dark circles. The general rule of thumb is that gels work better on younger skin while creams are better for more mature/older skin.
Retinol is a Vitamin A derivative that stimulates cell turnover and boosts production of collagen – this helps the delicate skin around eyes to strengthen and reduce dark circles. However, they may be overly drying for some so use it sparingly.
You can also look for creams and gels containing neuropeptides which also perform a similar function. Vitamin E in gels and creams protects the skin while Vitamin C helps in collagen production and boosts elasticity of skin.
Intensive treatments can include intense pulse light or IPL which destroys the pigment cells under the eyes and skin lightening creams that contain hydroquinone or kojic acid.
Remember that these are all temporary fixes. Permanent treatments involve laser therapies, chemical peels and surgeries.
A word of caution: Lifestyle changes and use of a moisturizer/under-eye gel are harmless and therefore, easy to try. However, if your dark circles are severe and remain even after these changes, it's best to consult a dermatologist before you jump to more intensive treatments such as chemical peels or laser therapy.
Home remedies
According to renowned beauty expert Shahnaz Hussain, you can try some of these easy home remedies:
Applying cucumber juice around the eyes daily and washing it off after 10-15 minutes. You can apply the juice directly or soak it on cotton pads.
Mixing potato juice with cucumber juice in a similar manner to help puffy eyes along with dark circles is a good option. You can try using lemon juice instead of potato juice as well.
Daily exercise is great for dealing with stress and increasing the flow of oxygen in the body.
Audrey Hepburn once said, 'The beauty of a woman is not in the clothes she wears, the figure that she carries, or the way she combs her hair. The beauty of a woman is seen in her eyes, because that is the doorway to her heart, the place where love resides.' So go ahead, get those beautiful eyes. Ditch the vicious circle of those dark circles.