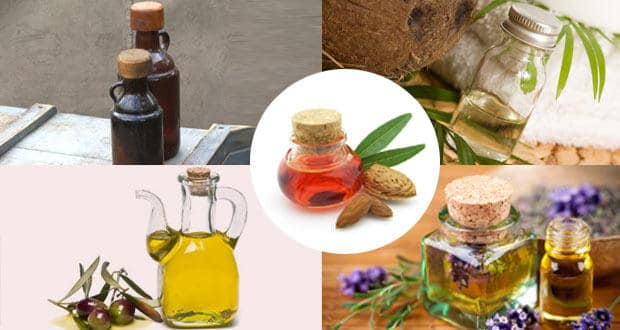 Most of us treat our hair the way we do our teeth – never really providing the necessary attention and care until such time that we begin to suffer from some discomfort. Realizing that you have begun losing hair then triggers off a frantic phase of clutching at all possible straws right from your grandmother's hair care recipe to visiting a trichologist. In reality, hair quality largely depends on several factors of which, some such as heredity may be beyond your control but others such as lifestyle and diet are definitely in your hands.
 One important point to remember is that the quality of your hair is a direct outcome of the kind of nourishment you provide it. Since times immemorial, certain oils have been used by people because of their nourishing properties. Although growing back lost hair is a tall order, the judicious use of these oils can help you stem further hair loss and this, in itself, will give you hair that has volume and a healthy sheen and bounce.
 Olive Oil
Olive oil is great for hair because of the several properties it has – it is nourishing oil that manages to penetrate the hair shaft much more effectively than other oils; it has good moisturizing action, and is also an excellent hair conditioner. If you use the extra virgin variety, your hair also receives vitamin E and mono unsaturated fatty acids that play an important role in promoting hair growth.
 Health.india.com tip: Take a little olive oil in a bowl and microwave for a few seconds until it feels warm, but is not uncomfortably hot. Slowly massage this warm oil into your scalp and onto the strands of hair until their tips. After leaving the oil on for 30 to 45 minutes, wash your hair with a mild shampoo.
Coconut Oil
Ever wondered why people from Kerala have such thick and healthy hair? It has a lot to do with their hair care routine that involves coconut oil. Probably one of the best oils for hair, coconut oil penetrates well within the hair shaft and prevents hair from losing moisture by acting as a sealant. As a result, hair is less likely to suffer damage and stays dense as well as strong. The lauric acid that coconut oil is rich in has significant action against viruses, bacteria and fungi and this ensures you keep away from infections of the scalp, too.
Health.india.com tip: Massage a little warm coconut oil onto your scalp every day. This helps to moisturize your scalp and prevent dandruff and scalp infections.
Once a week, massage a greater quantity of warm coconut oil on to the scalp and hair strands. Leave on for about an hour or two and then wash with a mild shampoo, but do not wash out all the oil. This allows a little oil to be retained which acts as a wonderful moisturizer for hair.
Almond Oil
When it comes to hair care, sweet almond oil is highly effective because of its emollient or softening action. Rich in vitamins D and E and minerals such as calcium and magnesium, almond oil acts as a natural moisturizer for your hair, preventing it from turning dry and brittle. As a result, there is lesser hair loss. And the nutrition your hair receives ensures it stays healthy, thick and strong, and also grows faster. However, if you have an allergy to nuts, it is best to avoid almond oil.
Health.india.com tip: Warm a little almond oil for a few minutes in the microwave oven and gently rub it over your scalp, allowing the oil to penetrate. Stay with the oil for as long as possible – preferably overnight – and then wash with a mild shampoo.
Lavender oil
Long in use for its calming and relaxing properties, lavender oil is highly effective against nits and lice. It increases the circulation of blood in the scalp and also provides an antibacterial effect that keeps the scalp free from infections, improving the health of your hair.
Health.india.com tip: Take a little lavender oil and mix with either coconut or olive oil. Apply daily to your scalp.
To make your own fresh lavender oil, take some olive oil in a glass bottle, drop in a few lavender sprigs, ensure they are submerged within the oil and keep in a dark place for a month or so. Massage a little of this oil daily onto your scalp and leave overnight. Wash your hair the next morning using a gentle, herbal-based shampoo.
Castor Oil
For ages, people in India have consumed castor oil that is obtained from the castor seeds as a home-made laxative to periodically cleanse their intestinal system. Applied externally, the oil has excellent hair growth-promoting properties and is considered an effective remedy for thinning hair. Most of these benefits are due to the oil's contents: triglycerides of ricinoleic acid that have anti-fungal, anti-bacterial and anti-inflammatory properties and vitamin E that has antioxidant action.
Health.india.com tip: Massage the castor oil onto the scalp and spread it evenly on hair strands, too. Keep for at least one or two hours and then wash the hair using Shikakai (Acacia concinna) or Reetha (Sapindus trifoliatus) powder.
If you find that castor oil alone is too thick for your comfort, mix it with a little coconut oil or olive oil to thin it and follow the same procedure.
While these oils seem like the panacea to all your hair-related issues, they may not be very effective in cases where your hair loss is due to some other underlying medical condition. Besides, hair loss may also be a result of certain medications you take and in such cases, you need to consult your doctor regarding any substitute without this side effect. Along with the regular use of herbal oils, consume a healthy and balanced diet rich in minerals and vitamins and keep yourself away from stress and you are bound to notice a definite improvement in the quality of your hair.
Home remedies for your skin problems:
Home remedies for your hair problems:
Also check out our home remedies for conditions:
Also read these articles on haircare:
For more tips on haircare, check out our haircare section. Follow us on Facebook and Twitter for all the latest updates! For daily free health tips, sign up for our newsletter. And to join discussions on health topics of your choice, visit our forum.