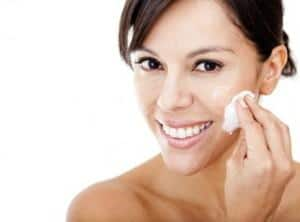 Moisturiser, sunscreen, kohl, lipstick, foundation, compact powder and so on are a few items that most women apply on their face on a daily basis. But removing all make-up at the end of the day is equally important. Sleeping with make-up on can lead to acne break-outs, accelerate the ageing process and make the skin look dull. Celebrity cosmetic dermatologist Dr Shuba Dharmana, tells us the right way and products to remove face and eye make-up.
 Face make-up 
Face make-up is usually removed with a face wash that is suitable to your skin type. If you have oily/combination skin, use a cleanser or face wash with salicylic acid or benzoyl peroxide. For dry skin, use a creamy, gentle cleanser or a foaming face wash that will not dry out the skin too much. (Read: Mineral make-up – what's all the hype about)
Massage gently with your fingertips in circular movements, use lukewarm water and a facial sponge to deep cleanse. Avoid using scrubs if you have sensitive skin or acne as it can aggravate the condition. 
Eye make-up
Eye make-up is more stubborn to remove especially when it is waterproof. The mascara needs to be dissolved first with an oil-based cleanser or make-up remover. Dab some eye make-up remover or cleanser on a cotton pad, press over the eyes for a few seconds, then swipe it over the eyelashes gently in circular movements and wash with lukewarm water. Do not rub the delicate under-eye area. Once the mascara comes off, the face cleanser can be used in the next step. (Read: Is the mercury in your make-up harming your eyes?)
 Facial wet-wipes to remove make-up
I personally don't like wet-wipes as too much rubbing can be harmful for the skin. While wet-wipes are okay to use once in a while say when on a flight, etc, regular usage can be quite harsh on the face where the skin is extremely delicate.
There are a plethora of cosmetic products out there that can confuse anyone so if you are not sure what your skin type is or what product is best for your skin, consult your dermatologist. Using the right product is vital for your skin's sake to keep it looking youthful and flawless for longer.
Loved this article? Vote for www.thehealthsite.com for the 'Website of the Year' Award and stand a chance to win goodies. Don't forget to activate your vote from your inbox.
You may also like to read:
For more articles on make-up, visit our make-up section. Follow us on Facebook and Twitter for all the latest updates! For daily free health tips, sign up for our newsletter. And to join discussions on health topics of your choice, visit our forum.